Complete Solution for:
Character Education
Creating a Moral & Caring Community
through teaching Care, Character & 21st Century Skills
Character Institute aims to offer a one-stop complete solution for all Educators & Professionals who want to participate in Character Work.    Our Organization's mission is to assist people or organizations who are dedicated to the building of good character amongst our young; to promote excellent work attitudes & ethical business practices amongst professionals; and to eventually create a moral and caring community for all.

"The Foundation of every State is the Education of its Youth"… Diogenes
We sincerely want the future of our kids,  by the way – ALL Kids are Our Kids,   to be a Nurturing and Prosperous one,  together we can and must make it happen.   
If we continue with our 'Material-Chasing' lifestyle as it is,  what will the world be like for our kids 10 or 20 years from now ?    It will really depend on us :  to know what we value most, what really matters in our lives and the lives of others;  and to let these values show through our words, thoughts and actions.    We teach through our actions and deeds, by us choosing to make our Character count.  Starting today, with whatever we have, doing whatever WE CAN.

"To educate a person in mind and not in morals is to educate a menace to society." -Theodore Roosevelt
Gandhi once said "an eye for an eye,  soon the world will go blind"    This statement makes one wonder what is the fundamental  thinking behind our actions ?   Is this a negative world,  whereby people respond mostly to negative stimuli ?    Is this also a fear-driven world ? Clearly, there is indeed no brilliance reacting to the negative energies of FEAR, GREED and ANGER. The truth is : nothing good can ever grow from the unhealthy soil of destructive energy.     True Progress has to be based on Goodness and LOVE.

"The only thing necessary for the triumph of Evil is for good people to do NOTHING." Edmund Burke
Can people be motivated to take positive actions simply by logical thinking  ?   TO DO whatever that is Right & Good ?   Is there a sizeable strength in the energy of Love, what ever happened to our innate yearning for GOOD ?    Can true happiness be achieved from such simple thinking and doing ?   
Humans are gifted with the power of choice – we can choose not to be driven by fear and we can also choose not to doubt our innate Goodness.   We can choose collective progress and prosperity.   It simply requires us to test our own faith,  it requires a lot of conscious effort to  stay on the Right track and to persevere for Excellence.     Everyone probably already knows that the ultimate steps to collective happiness and success,  in the long run, is keep working on it :  to BE GOOD,  to DO GOOD  and to Teach GOOD. 
"No one need wait a single moment before starting to improve the world." – Anne Frank

What if we put all our heads and hearts together and join hands,   to offer each other a gift of a good idea,  a praise, a great conversation,  an encouragement, a friendship, a token of our care.     Soon the world will become a nurturing place for all of us to live and thrive in.  This can really happen,  and when it does,  the world will truly be a better place and our lives will forever be meaningful and fulfilling.     We all know this :  Together We Can.
Happiness begins as soon as we affirm our own inner goodness (our strength actually) and start paying good deeds/actions forward – like planting good seeds now.    For if goodness exists in us,  we know it exists in others as well.
We are indeed our weakest link.  We share the same Earth and together we shall create and live the same future history.
Ultimately,  we all want real collective progress and to start seeing lasting economic progress.    This is after all an Educated world with intelligent human beings.    For real and everlasting success,  we really need to move away from the narrow "only I" world to a  nurturing "We CARE" environment.

Character Education is far too important and we cannot just wait for things to change on their own.    Hence we started Character  Institute,  to join hands with those (most importantly Teachers)  who want to participate in the GOOD Revolution.  This is our humble effort to build a better world.  
Character Education is not a 'off-the-shelves' program,  it is a long process of dedicated work of Great Teachers.   All Great Teachers who truly cared would want Good Meaningful Lives for others.  It is indeed a love and soul-searching work.

Over the last 10 years,  Character Institute has intentionally gathered several world-class speakers,  famous researchers and great teachers who have successfully taught Character-Building programs.    These are Great Teachers who have touched the lives of many by teaching good values and helping people find their strengths,  to affirm their innate goodness, to choose good values and to live a smart & good life.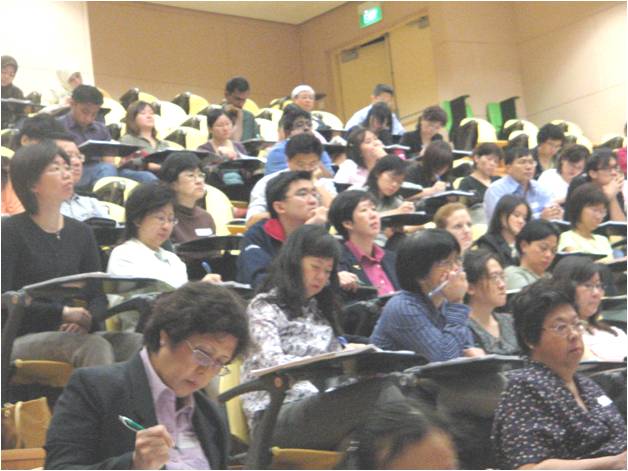 We have also developed a Character Education Practitioner Certification  Program for Teachers/Educators who want to obtain a professional recognition in Character Education.   While doing their 'live' projects,  teachers get  to be mentored by our inspiring speakers/examiners.    Dedicated teachers from all over the world are welcomed to take part in this Certification.
  Be recognized,  get trained,  be mentored and be certified by top Character Educators in the world.
Visit our website on a regular basis,  as we will continue to give away wonderful freebies (excellent articles,  printer-ready posters,  video-clips of our talks,etc)  specially for you.    Together WE CAN make good and lasting changes happen.
On a final note,  we would like to express our heartfelt gratitude to Professor Thomas Lickona, Ph.D., Director, Center for the 4th & 5th Rs, Cortland New York, for his brilliant work in Moral Development and Character Education and his years of encouragement in our work.    His work has made our work possible.
Warm Wishes,
Ms Joanne Ng, Director
Character  Institute
6 Jalan Serengam Singapore 769410

Tel (65) 6546 5801
Singapore